Ever wondered what's up with the Bermuda length shorts at the golf courses then you are not alone.
Golf has been the game of the elites and some rules are intentionally made to make golf players look different. You can easily spot someone with a p cap, tucked-in shirt, short and black socks, and squares to be someone heading or coming from a golf course.
Bermuda length shorts for golf was actually a norm back in the day but now some golf courses may require you to wear full trousers or they can give totally ban short shorts from their course?
What Are Bermuda Length Shorts
Any short just above the knees can be called as Bermuda length shorts. It was a norm to mention in the dress codes of the golf courses back in the day but now most golf clubs demand for shorts at least 3 inches high above their knees.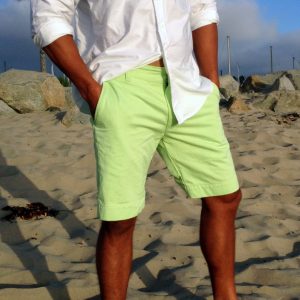 Why Do Golf Clubs Have Dress Codes
One of the main reasons why golf clubs have dress codes is to ensure discipline on the course. Every golf course is trying to build itself as a brand and so they introduce their own dress codes.
Some of the golf courses still mention Bermuda length shorts to play at their golf course mainly because they are copying from one another because this length of shorts was mentioned in the dress codes of one of the earliest golf courses.
Also apart from uniformity by enforcing such rules what else are they actually trying to achieve?
Well, it can be a debate but one easy reason to understand can be to filter out non-serious amateurs out of their parks.
It may sound rude but this is actually one of the reasons. By introducing a dress code of Bermuda length shorts they can ensure that only those get into the golf course who will actually take the game seriously.
It is not just how good of a player you are, how much respect you are willing to give to the golf course also matters. Therefore, we can safely say that in order to filter in only the 'sophisticated' group golf courses are trying to project themselves as a playground for Professional players.
Think by yourself, if you are just started out playing golf and you visited a golf club with a friend what would be your observation. Apart from the expensive equipment, and lush greenery you will notice the players' attire as well. A uniformity will give a feeling of eliteness.
In the developing nations, where the golf courses are more out of reach of a common person, rich lads actually play golf to project their wealth. Expensive golf gear with Bermuda length shorts can show them more progressive. So people would happily show off their status and golf shorts are a mean to depict that.
Do People Like Bermuda Length Shorts at Golf Clubs?
Not really, or we can say a vast majority of golfers who have a  higher handicap score are still not sure about the dress codes. They make up most of the golfer's community. As per the surveys, most new golfers are still trying to find out what suits their playing style.
The muscle stiffness, lack of game knowledge, and then the dress codes can actually overwhelm the learning process. Bermuda length shorts can actually be comfortable to wear but what if someone is more comfortable in shorter shorts or a full trousers.
Golf courses can actually make more money by allowing more people to get in and experience this wonderful game. As more people are getting into golf each year the accessibility to the game should also be made easier.
Some Golf Clubs With Bermuda Length Shorts
There are actually quite a lot of them but I will enlist only a few which mention bermuda length shorts at their golf courese. Here are they:
Quail Ridge CC
Credit Valley Golf
Vallée du Richelieu
York Downs
The Bedens Brook
Hammock Dunes Club
Aronimink
Forsyth Country Club
El Caballero Country Club
Knollwood Country Club
Scarthingwell Golf Course
The Golden Bear Club
The Greenbrier
The Country Club of Florida
Vista Valley Country Club
Historic Huntington Country Club
The Club at Ruby Hill
Canoe Brook Country Club
There is no end to the list. If you are planning to take membership of any golf course make sure you are aware of their dress code rules. If you are not a fan of the Bermuda shorts then you need to look somewhere else.
Top 5 Bermuda Length Golf Shorts Brands
| Rank | Brand | Material | Price Range | Popular Styles |
| --- | --- | --- | --- | --- |
| 1 | Adidas | Polyester | $40 – $80 | Ultimate365 |
| 2 | Nike | Polyester | $45 – $85 | Flex, Dri-FIT |
| 3 | Under Armour | Polyester | $40 – $75 | Showdown, Iso-Chill |
| 4 | Puma | Polyester | $40 – $70 | Jackpot |
| 5 | Callaway | Polyester | $45 – $90 | Opti-Dri, Balboa |
Top 5 Bermuda Length Golf Shorts Features
| Rank | Feature | Description | Importance |
| --- | --- | --- | --- |
| 1 | Moisture Wicking | Material that wicks sweat away from skin | High |
| 2 | Stretchability | Allows for greater range of motion and comfort | High |
| 3 | Breathability | Fabric that allows air to circulate, keeping you cool | High |
| 4 | UV Protection | Fabric that provides protection from harmful UV rays | Medium |
| 5 | Pockets | Pockets for storing tees, ball markers, and scorecard | Medium |
Top 5 Bermuda Length Golf Shorts Colors
| Rank | Color | Popularity | Versatility | Matching Shoes |
| --- | --- | --- | --- | --- |
| 1 | Navy | High | High | White, Black |
| 2 | Black | High | High | White, Black |
| 3 | Khaki | High | High | White, Brown |
| 4 | White | Medium | Medium | White, Black |
| 5 | Gray | Medium | Medium | White, Black |
Top 5 Golf Courses to Wear Bermuda Length Shorts
| Rank | Golf Course | Location | Dress Code | Ideal Season |
| --- | --- | --- | --- | --- |
| 1 | Pebble Beach Golf Links | California, USA | Resort Casual | Spring |
| 2 | Old Course at St. Andrews | Scotland, UK | Casual | Summer |
| 3 | Royal Melbourne Golf Club | Victoria, AUS | Smart Casual | Summer |
| 4 | Augusta National Golf Club | Georgia, USA | Country Club | Spring |
| 5 | Emirates Golf Club, Majlis Course | Dubai, UAE | Resort Casual | Winter |
Top 5 Bermuda Length Golf Shorts Care Tips
| Rank | Care Tip | Description | Importance |
| --- | --- | --- | --- |
| 1 | Follow Care Instructions | Check the label for specific washing/drying instructions | High |
| 2 | Use Gentle Detergent | Use a gentle detergent to preserve color and fabric integrity | High |
| 3 | Wash with Similar Colors | Wash with like colors to prevent color bleeding | Medium |
| 4 | Dry on Low Heat | Dry on low heat or air-dry to maintain fabric elasticity and appearance | Medium |