ClubCorp has almost 200 golf courses throughout the USA. When you get into membership with them, there come some more clubs clubbed along the membership. So there is an added advantage for the member. Although almost 200 clubs themselves are pretty much good enough. However, you would have to travel around a lot to play, in this case, the other clubs come into play especially if you have a good one in your locality. You will get a list of 55 best ClubCorp golf courses in this post.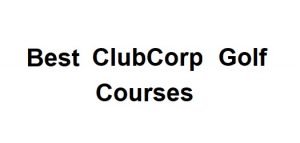 In order to play the course, you need to pay the cart fee and get a discount on the food. Being a member also gives the advantage of an agent that make sures your tees are set up correctly. Also the same agent will make sure that you get our food on time as per your likings.
But the catch is that you can't get to play on the same course more than once a month. So you would have to travel around if you want to play more than once a month. There is another catch, if a club has three courses then you can only play two of them in a month. You are otherwise free to move around the country and play wherever you want. If you are insane golfer you can play on different course everyday. That of course is not a possibility.
Some of the clubs are high end properties and comes under the selection of professional tournaments for tour games. But there is a mix and match when it comes to the quality of the clubs. Some of them are a lot better than the other while for other you may actually have a mediocre experience. Another point worth mentioning here is that some of the courses are crowded. The time from tee to tee can be actually long.
The business model is of course to allow maximum players to play. It is quite a successful model given the total number of courses ClubCorp has been able to pile up over the years. If you are someone coming from private club access you will not enjoy playing at ClubCorp mainly because all sorts of players are coming in to play.
Here are some of the best ClubCorp clubs you would enjoy playing in:
Tucson National Resort
Indian Wells CC
Mission Hills CC
Arnold Palmer Bay Hill Club & Lodge
TPC Michigan
TPC Piper Glen
Pinehurst (#9)
Firestone CC
Hunters Green CC
Quail Hollow CC
Kiawah Island Resort
Barton Creek Resort
Homestead Resort
Fords Colony CC
Davenport CC
Saddle Creek
Traditions
White Columns
Mission Hills (Dye)
Firestone
Missin Hills
Dayton Country Club
Country Club of the South
English Turn
Coto De Caza
Anthem (Ironwood)
Gainey Ranch
Ealges Landing (27 holes)
Coto De Caza (North)
TPC Michigan
Mission Hills
Indian Wells
Glen Abbey
Bears Best
Firestone
Atlanta National
Pinehurst
Royal Hawaiian
Diamond Run
Fair Oaks
Seville
Carmel Valley Ranch
Tucson National
Omni La Costa
University Club of Milwaukee
Old Ranch
Indian Wells
Regatta Bay
Shadow Ridge
Aliso Viejo
Desert Falls
Morgan Run
Santa Rosa
Porter Valley
Canyon Crest
Lost Key